Definition: small
Kun-yomi: ちい・さい、ちい・さ(な)
On-yomi: ショウ
Overview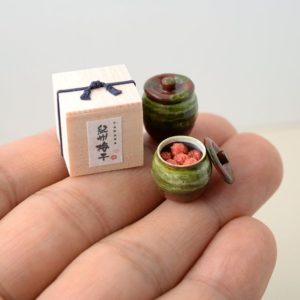 The Kanji for "small" is almost as easy to visualize as its opposite (大), if you think of the strokes as representing three tiny things.
Similar to 「大きな」, 「小さな」 is another one of those funny adjectives that you can't conjugate and only use as is. Stick with the i-adjective 「小さい」 for conjugations eg 「小さくない」 NOT 「小さじゃない」.
Examples
Example 1
何でも【なん・でも】 – anything
小さい【ちい・さい】(i-adj) – small
する (exception) – to do
かわいい (i-adj) – cute
見える 【み・える】(ru-verb) – to be visible
何でも小さくすればかわいく見えるよね。

なんでもちいさくすればかわいくみえるよね。

Anything looks cute if (you) make (it) small, doesn't it?
Example 2
小学生【しょう・がく・せい】 – elementary school student
~の時 – when ~
何【なに/なん】 – what
なる (u-verb) – to become
思う【おも・う】 (u-verb) – to think
よく (adv) – well; often (adverb of 「いい」)
覚える【おぼ・える】 (u-verb) – to memorize
そっち – that side
パパ – Papa
お嫁さん【お・よめ・さん】 – bride
宇宙【う・ちゅう】 – space
飛行士【ひ・こう・し】 – pilot
子供【こ・ども】 – child
バカ – idiot
そこ – there
微笑ましい【ほほえ・ましい】(i-adj) – amusing; heartwarming (makes one smile)
言う【い・う】(u-verb) – to say
A: 小学生の時に何になりたいと思ってた?
A: しょうがくせいのときになにになりたいとおもってた?
A: What were (you) thinking (you) want to become when (you) were elementary school student?
B: う~ん、よく覚えてないね。そっちは?
B: う~ん、よくおぼえてないね。そっちは?
B: Hmm… (I) don't remember well. How about (your) side?
A: パパのお嫁さんと宇宙飛行士。子供ってバカだよね。
A: パパのおよめさんとうちゅう ひこうし。こどもってバカだよね。
A: Papa's bride and astronaut. Kid(s) are stupid, huh?
B: そこは微笑ましいって言おうよ!
B: そこはほほえましいっていおうよ!
B: Let's call that heart warming!
Next Suggestions